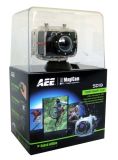 Videos that capture part of preparation of «Bike Odyssey» and show the real thrill of the route require a high quality camera like MagiCam SD19!
 MagiCam SD19, is a special camera which records everything in range 175 °, with a unique fidelity!
Small in size, with detachable TFT screen and unparalleled quality, is ideal for shooting  action moments. The MagiCam SD19 gave us great shots and proved to be an excellent tool for our videographer!
For more features visit Oktabit.