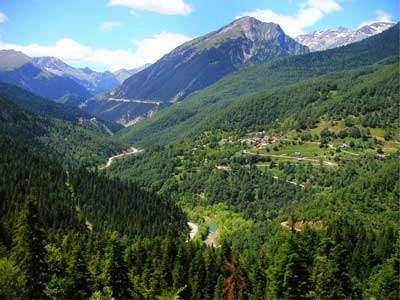 Forty one (41) villages along the path of – perhaps-  the toughest for Greek mountain bike race that will last for 8 days and will cross the mountain range of Pindos • The launch will take place on 26 May 2013 at Laista (Zagoria villages) and after 6 intermediate stations (Anthousa Argithea, Agrafa , Megali Kapsi, Athanasios Diakos, Gravia ) will terminate at the city of  Delphi on June 2, 2013. It is a "racing journey" to forgotten, yet beautiful places.

Specifically, the first stage of the race starts from the Laista Zagoria and ends at Anthousa, Trikala, is passing from  Vovousa  village– near Ioannina and the historical village of  Milia (Metsovo).
The second stages will start from Anthousa Trikala and will end at Karditsa Argithea. This route includes the villages Milia, Mesochora, Vathyrrema, Metamorphosis, Lagkadi, Anthiro, Kritsari, Zervos and Mesovouni at Karditsa.
The third stage starts at Argithea and ends in village Agrafa with intermediate passings through the villages of Livadia Petrilo, Krania, Koustesa, Vrangiana at Evritania region.
The fourth stage will start from Agrafa and ends up in village Megali Kapsi- Fthiotida region-intermediate villages of Kamaria, Neraida, Kleisto, Mesochori, Vracha, Neochori and Mavrilo.
The fifth stages will start from Megali Kapsi and leads to Athanasios Diakos (Upper Moussounitsa) passing in between the villages Tymfristos, Vlachiko,Pouggakia, Palaiochori Grammeni Oksia, Kato Chorio and Artotina at Fokida region.
The sixth stage will start from Athanasios Diakos and finish  in Gravia Fokidas passing in between the villages Mavrolithari, Panourgias and Kastelia.
The seventh and final stage is starting from Gravia and finishing at historic city of Delphi.