Total distance: 111 km

El.Gain (+): 3.219 m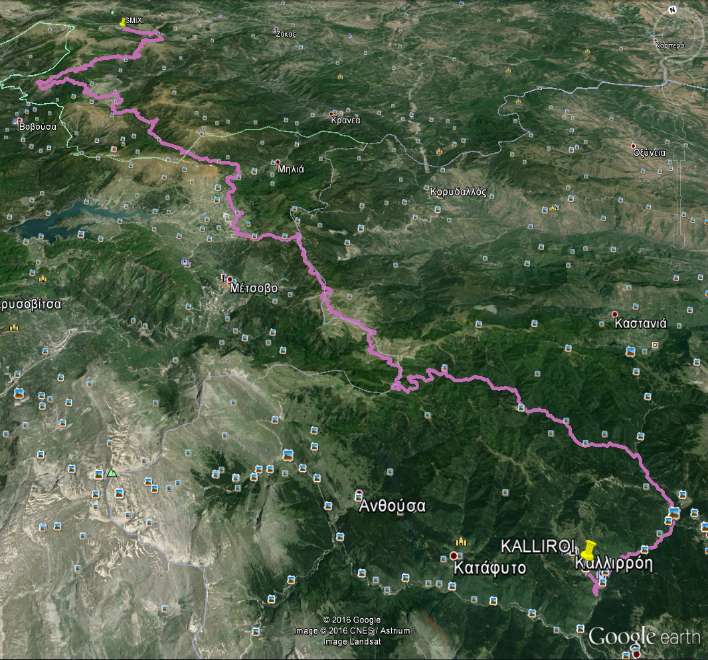 Kallirroi is a mountainous village in the district of Trikala. It is built at an altitude of 1,040 meters on the slopes of southern Pindos, between the peaks Dalia (1,500 m), Krotiaia Papou (1,700 m) and Bourdeni (1,750 m), between Krania and Polythea. It is 60 km from Kalambaka and is one of the most mountainous settlements in Thessaly. Kallirroi belongs to the Aspropotamos Community.
Its about 200 residents (in the summer months) are engaged in logging (8,500 acres of fir, pine and beech forest) and livestock farming. In the winter the village deserts and the community office is transported and operates in Trikala. On the contrary, in the summer, everything comes alive with the arrival of not only the locals who return to their homes but also vacationers who are ready to enjoy the beauty of the place and the good climate, thus reaching a number of 1,000 residents. The natural environment remains virgin and this has made it possible to maintain in the forests many wild animals such as deer, wolves, foxes, hares, bears and squirrels. The river of Kallirrois poured into Aspropotamos is a natural reserve of trout.
Although the testimonies of the occasional movements of the populations during the Ottoman domination are fragmentary, we know that Vlachs from the Aspropotamos area settled in Iraklia (Tzoumagia, Serres). Perhaps such a movement was the reason for the desertion of the village before 1830, as tradition shows. It is also reported that the ethnologist Cosmas Aetolos passed and taught through the village. The two churches of the village followed the fate of the settlement. Thus, the sacred church of the Koimiseos tis Theotokou (Assumption of the Virgin), dated before 1600, was burned in 1943 by the Germans and a new one was built in its place. Only the old bell tower was preserved. On the fifteenth of August, the village celebrate a feast after the Divine Liturgy in the village square. The church of Ag. Nicholas, which is considered the oldest of the village, was demolished in 1970 and a new temple was built in its place, where part of the iconostasi (altarpiece) and portable icons saved from the old church and were placed in the new one.